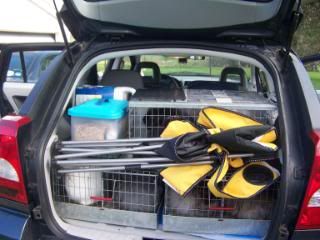 We left out of here around 9:15am. Because of the rockslide on I-40 at the NC/TN border, we had to detour around and ended up not getting to Louisville until around 4:00pm. Thankfully we had enough room in the Caliber that everyone could ride in semi-comfort.
We stayed at the Microtel Hotel, which was about 15 minutes from the showroom. After swinging by there to check in and drop off the dog (our pet sitter crapped out on us at the last minute and we could only find sitters for two of the three), we headed to the showroom to get checked in and put the rabbits in their carriers.
Imagine our surprise when we discovered only half the coops had risers! All my selfs had it, but only Tryon had one in the shaded department, which meant that unfortunately, the woolies had to sit in shavings. Joni and I did get a few resting mats, which helped a bit, but none of the bunnies were very thrilled with sitting in the shavings, especially not the sales bunnies!
After a mild heartattack over not seeing any feed provided, they announced that Purina had been donated. WHEW! We had been about to jump in the car and desperately try to find a feed store that carried Purina. Poor Joni had to use Purina, no Manna Pro had been donated.
We headed to the room and grabbed Papa John's for dinner, then Joni and Bear stayed home while Tim, Amber Henderson and I went to Waverly Hills to Ghost Hunt!
Waverly is a Haunted TB Hospital that is incredible- I could write 100 posts just on the history and experience of this place, but I won't. I do love talking about it though, so feel free to ask me some time.
We didn't get back to the hotel until 4:30am. We got to sleep in until 7:45ish and then it was off to the show room for the Nationals and Specialty Show! We both downed our 5-Hour Energy shots and prepared for the show.
-Kristen

Keep's Rabbitry