They can be held until Convention. Please contact me for my policy on that.
Available at the Greensboro Show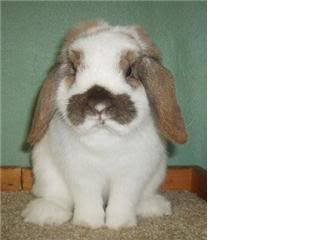 **
Hamilton's Cherry Coke
- Broken Black Tort Sr. Doe
She's due tomorrow, will be for sale immediately if she misses her litter, or available after the litter weans if I can't foster.
Coke has thrown some very nice babies. She's light on her pattern & a bit long in her body. She's got a nice head, good bone. A very nice doe in general. Would make an excellent brood doe.
Fatboy's Tyson
- Chestnut Sr. Buck- ML- 1 leg, pending 1 leg.
Smaller mini lop buck. I wish he had a bigger head. He's thrown me some really cute babies, so I think it's time to move him on. Great ears/crown, nice overall buck. Would be an excellent starter buck.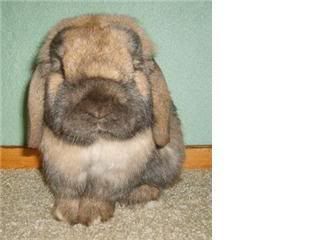 The Nature Trail's Bowser
- Solid Senior Buck-HL
This guy is full brother to
Lord
. Excellent lines behind him, this guy has the most massive head I've ever seen on an animal. Pictures don't even do it justice. He's got excellent bone, a beautiful animal all around. I love his butt! Is a large buck.
Huckleberry's Ms. Lady- Senior Smoke Pearl Doe- HL
I'm going to get a picture of this girl when she's not mad at me- she pulls her ears back and makes them look much worse than in real life. Marys, Mtns and BBF lines. Excellent brood doe, excellent mother. I showed her right before her last litter and she did win her class 1/4 with great comments from the judge. She has nice thick, well furred ears, a nice head and crown. Good, thick body overall, VERY nice doe.
Pets:
ADORABLE Smoke Pearl wooley doe! BEST wool ever, it's ridiculous. She was my keeper, until her ears started looking like they wanted to lop.
Bizarre, but oh so cute!
-Kristen
Keep's Rabbitry