Keep's ?- Sable point jr. buck (wooley) -
SOLD
Tula's Place Krys x Hamilton's CA. Dreamin'
Keep's Lily- seal Junior Doe (JW)
Sister to the above buck. She's going to be larger than her brother, but I don't expect her to go overweight at all. She's molting and looks terrible right now, but she's got a nice coat coming in!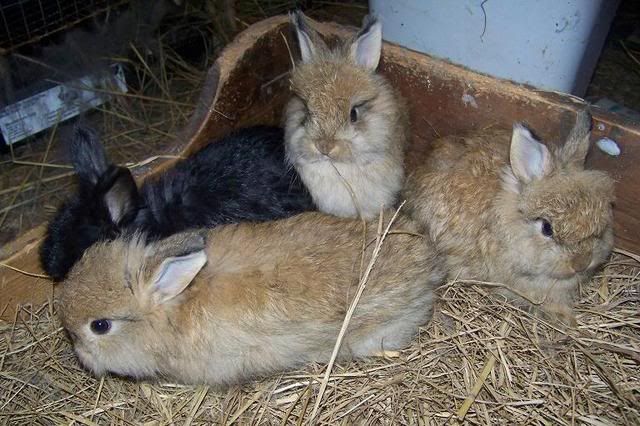 English Angora/ Jersey Wooley Mixes. 2 Chestnut does, 1 black doe, 1 Chestnut buck, 1 black tort buck.
[color=blue] Black Tort Buck- Reserved[/color]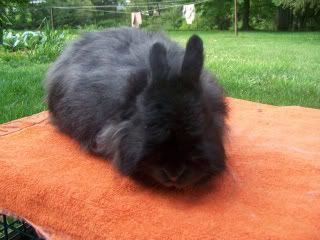 Keep's Burlington- Seal Jr. Buck
Wooligans Raleigh x Hamilton's Lil Monty
I shouldn't be selling him, I know I shouldn't, but I think I favor his brother Tryon ever so slightly more. Got HOT comments at the Taylorsville show, nice short body, nice ears and head. Working on molting out his baby coat right now. He's probably going to be a bigger buck.
HF's Latte- Black Tort Doe- 2 legs
Mtn's Gucci x The Nature Trail's Oracle
Latte is a NICE doe. Her only fault is length to the shoulders, however I think that is something that has worsened with more advanced age. She's thrown me a litter of very cute babies. Excellent head on her, beautiful ears and crown, nice bone and body!
Latte is going to be extremely discounted, because she will be turning 3 in November. She's been kept in production, however, and should have no problem kindling for her future owner. She's a SWEETheart, will be discounted further if someone wants to give her an excellent pet home-without her pedigree, of course.
NGF Neota- Tort- Senior Doe (HL)- Red Seal registered.
NGF Leota x Saynora's Solitaire.
This girl- wow, lines lines lines. Most is Saynora, THF, Camelot, Audrey. She's not that much to look at, to be honest, her head is very doeish and she's smaller. However, her daddy has 35+ legs, and her mom has 3. She's got so many winning animals in her ped I think she's worth taking a chance on to see what she will throw. I need to keep her, but I need cage space more.
Tula's Place Krys- Siamese Sable Sr. Doe- proven (JW)
This girl has such a nice head! She's more of a brood doe, but did very well as a junior. Mother to Gorgeous & Spectacular, she throws VERY cute babies! Hate to let her go, but I think it's time.
Wooley Boogers Gracie- Black
Gorgeous- I love her so much. She's won 2 legs, but at the moment I can only find one >.< Price reduction because I'm missing a leg for her.
Sabrina- need to check pedigree.- Black Tort Proven, excellent mother. Smaller English Angora than the other two.
-Kristen
Keep's Rabbitry