Due to rising costs of feed, I need to really move some animals!
They can be held until Convention. Please contact me for my policy on that.
Available at the Mtn State Fair & Greensboro Show
Animals will be priced to move. Discount on multiple purchases.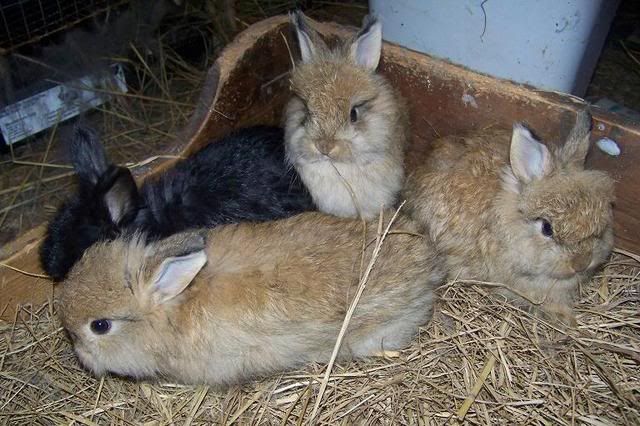 English Angora/ Jersey Wooley Mixes. 1 Chestnut doe, 1 black doe, 1 Chestnut buck,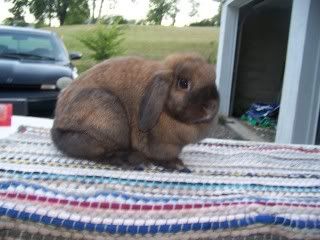 NGF Neota- Tort- Senior Doe (HL)- red Seal registered.
NGF Leota x Saynora's Solitaire.
This girl- wow, lines lines lines. Most is Saynora, THF, Camelot, Audrey. Her head is very doeish and she has a slipped crown. However, her daddy has 35+ legs, and her mom has 3. She's got so many winning animals in her ped I think she's worth taking a chance on to see what she will throw. I need to keep her, but I need cage space more. She's got a nice wide body and a good butt-ruffle!
** Keep's Lola- Broken Siamese Sable Jr. Doe
LBF's Zapp x Huckleberry's Ms. Lady
She's a great way to get some color in to your herd with solid lines behind her. She's a baby so it's harder to judge type. She's not going to be a BUD. She needs to grow in to her ears which are a bit long at this point. Both ears are milk dipped. Price is going to go up on both babies as their quality becomes more evident.
**Keep's Boy Blue- Broken Blue Mini Lop Jr Buck
SOLD BS in NC
Hoppin's Alexis x Velotta's Joe
**Tula's Place Krys- Siamese Sable Sr. Doe
SOLD K in PA
**Keep's No - Black Otter Jersey Wooley Jr. Buck
SOLD B in NC
**Keep's Tryon- Siamese Sable Sr. Jersey Wooley Buck
Wooligans Raleigh x Hamilton's Lil Monty
I wanted to keep this guy a little longer, but with feed prices I just can't. He's also a smaller buck, will never go overweight unless he is allowed to eat a bag of food a day. Beautiful short ears. He's working on a molt right now. Nice body, beautiful little guy, I believe he won his class several times as a baby.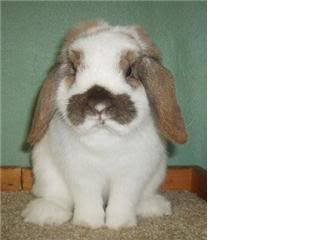 ** Hamilton's Cherry Coke- Broken Black Tort Sr. Doe
She's due tomorrow, will be for sale immediately if she misses her litter, or available after the litter weans if I can't foster.
Coke has thrown some very nice babies. She's light on her pattern & a bit long in her body. She's got a nice head, good bone. A very nice doe in general. Would make an excellent brood doe.
***HHR's Wish Upon A Star- Chinchilla Senior doe- 2 legs
Stauber's Sabrina x Bell's Leon de Giovanni
Nice head on her. Going through a terrible molt right now. I wish she had more width throughout the body. Would make a good brood doe.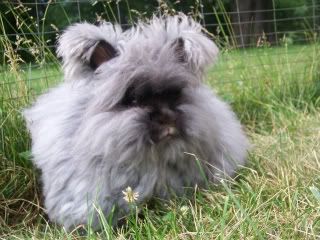 Pending
Wooley Boogers Gracie- Black
Gorgeous- I love her so much. She's won 2 legs, but at the moment I can only find one >.<
Pending
Sabrina- need to check pedigree.- Black Tort Proven, excellent mother. Smaller English Angora than the other. Will have excellent wool when it grows back in from having her litter.