I've got to get 10 seconds to myself so I can fully go through the rabbits, but I'll have cages, pet cages, aquariums (not a rabbit item, I'm aware of that), etc.
So far to be available:
Keep's Misunderstood- REW sr. doe. Carries dilute, she's hiding Agouti and Tan pattern. She's the mother to my adorable little Opal baby. Partially pedigreed, she's out of Quandary, who is out of wooled NDs. This girl is NOT for a timid owner, she's not mean, but she is highly spastic. A wonderful mother, she's got great width, a decent doe head, nice short ears. I wish she was a little shorter in the midsection, nice FULL HQ.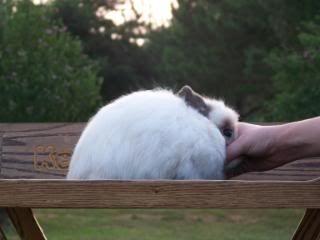 Keep's Angel- Sable Point Sr. Doe
Fantastic mother, she's small but just kindled 3 babies for me. She is pictured on a litter. I wish her head was wider and her ears have a slight tendency to criss cross at the very tips. She's nice and wide, short and oh yeah- the mother to Keep's Poplar, 2nd Self Sr. Buck at Nationals this year.
Lil Bit Farm's Quandary- Broken Black Otter sr. buck. Unshowable because of no butterfly. I had him offered around Nationals time, terminated a sale and kept him, but frankly I'm not using him, so I need to move him out. Will come shaved down because he tends to mat very easily. His daughter has perfect wool though. Only Partially pedigreed, as he is out of wooled Netherlands.
Keep's Amelia- Sable Point Sr. Doe
Amelia does not pose, so don't ask lol. I love this doe a lot, she's a great size, got very nice bone and chest width. I wish her crown was a little wider, you can see she has ear control. She's developed a kind of hump on her shoulders
which affects her pose. I'm offering her as a trial doe- her sister was perfectly fine and this is something that developed later on, so I'm not sure if it was an injury or what. She's being discounted because of her oddity. Out of great lines, she's worth a chance.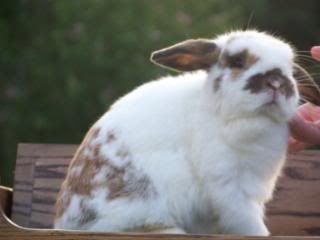 Keep's Kira- Broken Tort Sr. Doe
PENDING DEPOSIT
Kira is also pretty spazzy. She's a smaller doe, pretty petite and loves to pose very upright. Kira is a FANTASTIC mother, she's raised her litter of 6 with no trouble and had no kindling problems despite being bred to a much larger buck. I wish she was more massive, I kept her to help downsize my buck and Joni's buck Quizno.
Her kits:
Keep's Rockstar- Blue Tort Sr. Buck
Tiny- tiny, tiny. He's a very small buck with a lot of ear control. I wish he was more massive and had more bone. His parents both had fantastic crowns, so I'm not sure what his deal is, but he's worth trying as a brood buck for his lines alone. I have 6 kits out of him that are looking fantastic.
Keep's Josie- Broken Blue Tort Sr. Doe
Obviously brood only, Josie's mom chewed her ears off as birth. She's Rockstar's full sister. Like him, she's small. She likes to pose very upright and she has a nice head for her size.
Lil Bit Farms Lexia- Tort Sr. Doe
Lexia's current litter (who are 3 weeks old, so excuse how rough she looks) are looking great- all FIVE of them. She's just a little over 2 years old, nice and wide with a nice HQ and great bone. She's lengthened out as she's aged, so she's obviously no longer a show lady.
Lil Bit Farms Sugar- Tort Sr. Doe -
PENDING DEPOSIT
She's a pose fighter. Bah. Just ever so slightly over a year old, she's got width for days. Very full in the lower HQ, she needs a less slipped crown (clearly).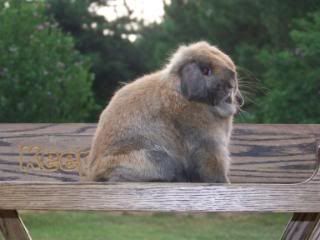 *sigh* This one makes me want to cry. Ok it's honestly too late. I may end up pulling her.
Keep's Baby Girl- Tort Sr. Doe
You may remember the last picture I posted of her:
She is fantastic. I love her crown, love her chunkiness, I love her topline, how she feels when you go over her body, her HQ..... I absolutely would recommend her as a show doe. She's rotten, I had to fight her a little to get her to pose, but she has that show sparkle, the HEY YOU- LOOK AT ME NOW pizazz. She's a little on the smaller side, but no where near as little as Kira.
*more woolies to come tomorrow, as they are evaluated including: Keep's Handstand, REW sr. Doe and Keep's Smoke, BLUE POINT sr. doe*
Red Earred Slider female + 45 gallon long aquarium and stand, plus a huge thing of turtle food, rock decorations and floating resting mat thing. Goes by the name "Turble" thanks to Malena's daughter.
I WILL be adding more animals and pictures as soon as I have a moment.
We are now located in McLeansville, NC, which is just north of Greensboro.
-Kristen

Keep's Rabbitry