I finally got pictures of a few things I made recently-
Earrings!
These are lampwork bunny head earrings! I did a few variations on these guys- this pair is hanging from the hooks by a small chain. A tiny baby blue bead sits lightly between the ears and you can see the larger bead that the head sits on.
The picture on this pair is terrible! It has a little more "play" on the hook than the other pair does, though when they hang properly you can't tell at all. The beads are connected directly to the earrings. A light pink bead sits between the ears, but the bunny beads rest on top of a textured, large purple bead.
I can do these guys a variety of ways. I'll have several available at the next show at $5.00 a pair, first come first serve. They are a little more difficult to make than I had originally anticipated. The ears make it harder to work and of course, the natural variations in the lampwork beads make it time consuming to match up a pair of bunnies.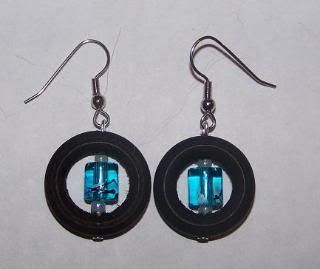 Here is another pair of earrings I made- this pair is definitely all me! It's wooden hoops that are supposed to be black and brown. Due to some differences in the wood, this pair is mostly black, with small bits of brown peeping through in places. Light blue tiny beads are on either side of a turquoise larger bead that has splashes of light blue and black color. Definitely one of my favorite new pairs I've made!
This picture, while terrible, shows the brown/black of the rings better. It's got two clear beads on either side of a flat pink variant bead.
I'll definitely have multiple pairs of earrings available at the next show- the non-rabbit ones will be $4, the lampwork bunnies are $5 as I mentioned earlier.
I really enjoy making things. Earrings require less patience than breeding bunnies (by a little bit, anyway) and it's good to relax sometimes when it's not practical to run outside and play with the rabbits- such as when it's 11:00pm and raining outside. With the addition of the rabbit beads though, I think it's become official- rabbits have infiltrated most of my hobbies now!
-Kristen

Keep's Rabbitry