BUCKS
*may have another buck added, need to talk to the original breeder first*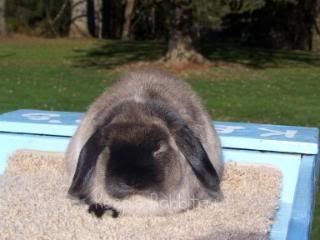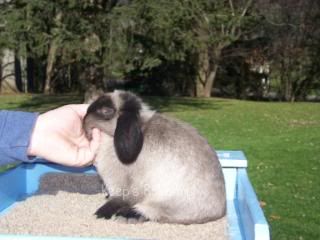 Keep's Zoidberg- Siamese Sable Sr. Buck (HL)
Lyle Creek's Friesian x Lil Bit Farms Zapp
Beautiful color, just about to start popping his head (his crown is totally molted out right now, except right in the middle). Very nice type on him, would like to see a heavier bone. I apologize for the overposed picture above, he's a table hugger that wants to be loved on, this was the best Joni could wrestle him in to lol. He's not yet 5 months old.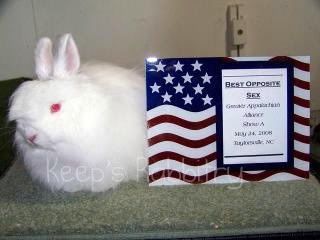 G.C. Keep's Forest- Self Senior Buck (JW)
SOLD
Wooligans Aspen x Keep's Elm
I dunno what to say about this rabbit. 4th place Self Sr. Buck at 2008 Convention. Registered and Granded, he has 14 legs to his credit (that I can find). A little more upright than some judges like, his flashy-ness has earned him many legs. He has some attitude in his cage but produces friendly, sweet offspring. He's made his replacement for me, it's time to let him go. Is a REW masking agouti and carrying self.
-picture coming soon-
Keep's Poplar- Self Junior Buck (JW)
Keep's Angel x Keep's Forest
I'll regret this. He's a very promising junior buck that likes to push when being posed. I wish his ears were a little shorter, but he's at an age where he's kind of looking funny. I don't mind holding on to him
. He just can't beat his half brother to stay.
Does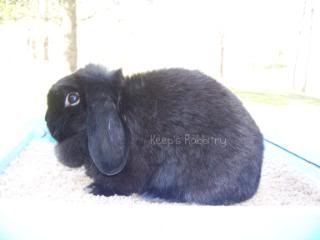 Lyle Creek's Friesian- Black Sr. Doe (HL)
Available AFTER litter
This does is just a big ball of chunk. Her last litter she threw 8 babies. 3 blacks, 3 sable points and 2 black torts. She also produced siamese sable when bred to a sable point. If you want color and mass, this is your girl. She's outproduced herself for Joni and I currently have some very promising babies that are not yet weaned out of her (they are fostered). It's so hard to take pictures of a black brood doe. She's got nice type on her, she's a bigger lady though.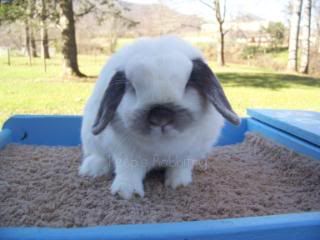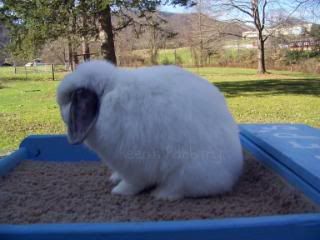 Keep's Barbi- Broken Sable Point Sr. Doe (HL)
SOLD
The Nature Trail's Miss Muffet x Lil Bit Farms Zapp
Available AFTER Litter
She's too light and clean in her color to show. I love this doe, she's an EXCELLENT mother and has thrown better than herself. I'd like to see more bone on her. She's got a NICE head that doesn't translate to pictures. She's happily settled in to baby making body (she's lengthened a bit in body and shoulders as she's aged), so while you could show her, she would be happiest staying home and making you babies. Remind me to show you pictures of her kids and grandkids to see what she throws.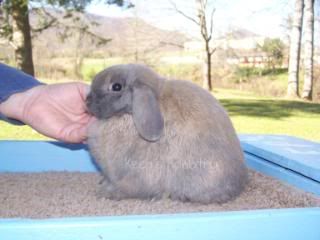 Keep's Zyra- Blue Tort Jr. Doe (HL)
SOLD
Lil Bit Farms Zora x Lil Bit Farms Rory
I like this doe! I wish she had a more massive head, but it's not bad. She's a chunky little girl. She does have a slipped crown, I love her nice wide chest. She's a must see. She's not yet 4 months old.
-picture coming-
Keep's Maiden- AOV Jr Doe (JW)
Wooligans Leesa x Keep's Tryon
*sigh* She's an AOV. Disappointing. She's a nice animal and got good comments at the show last Saturday. I wish her ears were a tad bit thicker, love the size and shape! She's a nice animal. I have had the hardest time choosing between her and her sister, but I'm doing a major herd reduction and have too many Leesa babies.
Keep's Relief- Shaded Jr. Doe (JW)
Wooligans Leesa x Keep's Tryon
I wish her ears were a tad bit shorter. I really like her body, she'd be a nice addition to a herd. Right now her wool is choppy as she flips over to her adult coat. She's still got some maturing to do, but her lines are excellent and she's got such a great start.
-Kristen

Keep's Rabbitry