My surprise is finally here! A BEW Himi! :P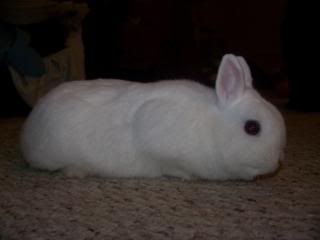 Ok, obviously I'm kidding. Meet Journey, my BEW Netherland Dwarf Buck. Thank you SO MUCH to Dennie, Susan & Gary, and Lory Ann for helping this beautiful little guy come live with me sooner than expected! :).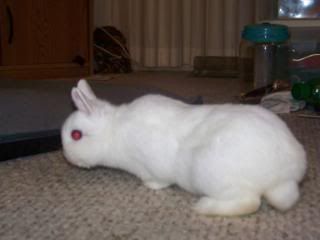 So, you're wondering why I have a BEW ND, right? I suspected you might be. Would you believe that I'm going to sell out the Jersey Woolies and concentrate on their wool-less counterparts?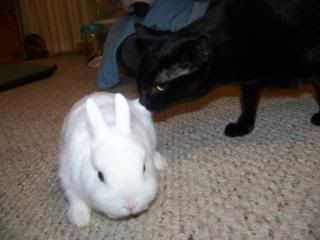 No? I didn't think you'd buy that. That leaves another option though... Making BEW woolies!
BEWs are something I said I'd never do. You have to have a lot of cage space for them, VCs, VMs, etc. I decide to give it a try though, just to have a fun little project to play with.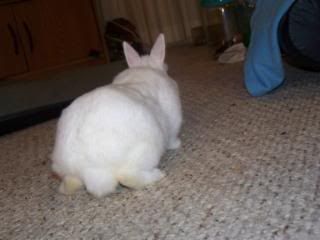 My first hurdle is going to be that very first litter- I am going to get ALL VM or VC wool-less animals. Both BEW and Wool is recessive. So, I'll have to keep a baby out of the first litters and breed them to each other or to woolies to get the wool gene consistently- then I'll have to start hoping I pull BEW out.
I'm not sure how it's going to work out- it's going to be a lot of work and take a lot of time, I know that. However, I think it will be fun and I'm excited to give it a try! Journey will appear on all pedigrees as NETHERLAND DWARF or IMPORT. I haven't decided which yet.
Wish me luck! This doesn't mean oranges won't make an appearance in the barn as well, we'll just have to see.
-Kristen

Keep's Rabbitry