We met some new friends at the Speedway! They show Mini Lops.
do not do
is spend 100% of my time at Convention! There is just too much to do in each city to do nothing but live and breathe rabbits for 5 days. I know, I know, I
am
there for a rabbit show- but still! What am I going to do on all those days? Look at the same rabbits in the same coops 8+ hours a day? No thank you :).
Tim
loves
the opportunity to look up places to eat and things to do, so I mostly leave him in charge of activities. When we went to Kentucky, we all knew we'd have to go see Churchill Downs. When we found out we'd be going to Indianapolis, we all knew we'd end up at the Raceway.
Oh no! The dinosaurs are breaking out of the Children's Museum!
Beautiful architecture in Indy!
Regardless, I had a fun time exploring Indianapolis. We were able to spend a day at the Children's Museum, which was incredible! We checked out the Indianapolis Motor Speedway, spent a few minutes before closing in the Art Museum, saw various war memorials and even drove out to Carmel so that Tim could do a food challenge.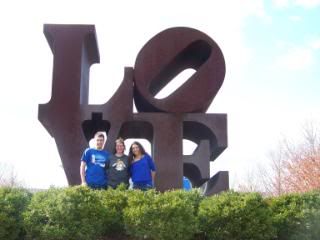 Outside of the Art Museum
I can definitely say Indianapolis is somewhere I'd visit again!
-Kristen
Keep's Rabbitry